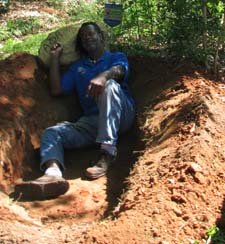 NINJA LOANS
 Why is it so innovative? 
Because it requires no credit verification, no credit history, no docs and needs no personal guarantees. In other words, it is the very worst of the worst lending practices we saw in 2006: the NINJA.
But there is a twist: "all that is required to qualify for a mortgage loan is qualifying for a life insurance policy, a down payment that usually amounts to 10% of the purchase price and verification that the borrower has the financial ability to pay the monthly payments."
In other words: buy life insurance, get a subprime, no doc mortgage for free.
Ye olde days are truly back.
(((YOUR INNER VOICE.COM)))
Continue reading "A Church Supervisor"
YOUR inner voice
Right here, Right now.

BLOGGING for A Better WORLD!