GETTING STARTED!
"From the bottom up"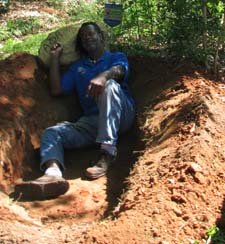 A Call to Service!
What does writing have to do with all this? Virtual Volunteers
Taking a minute helps alot!
This is about IMPROVING Me !
First adding value to my life. When i do my very best I know I am adding value to life. Just as well when I don't care things go awry. How do you read when nothing is written? What have you written? How many of them best selling books did you buy? Did you even know them?
Let's say, you are in business for yourself or starting a new business venture, would you do it this way? REaching the masses.
How important is this? What am I doing here? I am building a business, in which one of the options is list building. My immediate focus IS NOT on making money, but rather developing close and long lasting relationships with me, because I know this is the very best way to help me grow.
As we continue building and developing solid relationships, we build a solid foundation for our success with whatever opportunities we share -- friend and foe.
People the world over want peace and prosperity for all people. The list grows everyday, newcomers. I hope I can live up to it! Do your part, lend your support, subscribe. Leave a name and email address. Every vote counts and every voice heard. Every your inner voice website, I have been on, was "good". Do not hesitate to drop a name in the box.
Your subscription is not complete until you confirm. That's it and Thank You.
This is how I see it. Too often it seems there is nothing I can do and then, whatever I do, it counts for nothing. So many of my family and friends are going through tough economic times, before this economic crisis hit. Now, during this crisis, we are literally catching hell to maintain a healthy standard of living and this is my call to service and we ain't got but one life line. Am I on it, are you? A Call To Service
We have become so accustom to what we call independent living and having things laid out for us, so much so, it is hard to imagine, we were all screwed-up, a major change is needed and that change demands our immediate attention.
According to my score, my debt to credit ratio did not contribute, but I would like to help fix it. Realize things are getting worse while some are fault finding and critiquing.
Getting started and starting all over again is a tough thing to do, so let's stop before we go too far? QED is an acronym What is QED?
The only person who can help me the most is "Me". This is a crisis that requires my immediate attention and just as our ancestors, I welcome the opportunity to join you to help turn this economic crisis around! Share! Time for swift and aggressive action! Join forces! Lend a helping hand. I know every American loves America and responsibility starts at home. I can do it and Yes, we can!
In words and deeds, this quest is not just about America or Americans or African-Americans, but the world over. This is an Opportunity for virtual volunteers, no matter your country, to help with activities that do not require face-to-face actions or tasks! If not for self, act now to help others and the future of our land, no matter where you reside!
After subscribing, I recommend starting here:

Explore our site! using our Yahoo and Google search boxes. There are more than 5,000 pages on this site. Try it, Type in a subject and search. Submit your valuable feedback and share.
Link to us! Add us to your website. Go here, copy and paste our link on your website. Send us yours.
Visit my BLOG: Click for our latest updates
Join Our 5 Pillar Affiliate Program! While you are here, check out and join our affiliate program. Be rewarded for sharing! Earn $75 Per Subscription... And Lifetime Commissions on Renewals! CLICK CLICK
Subscribe to our RSS feed, Add us to your favorites, and email us to your friends. Subscribe to our RSS?
Thanks for sharing, Art@your-inner-voice.com
One way to grow together. Loyal and faithful support is another.