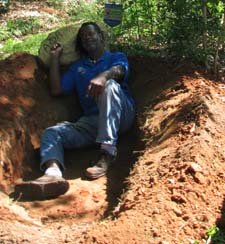 Humble Farm Refuge, Inc, GoFundMe
Campaign to purchase land -- Why should you support, contribute, share and/or participate in this groundbreaking adventure/undertaking?
Mastering the art of doing more with less is how we grew to this point! Our goal is to raise $250,000 by December 2017!
Educational Tip: This innocuous little weed is one of the most useful medicines on the planet, just waiting to be harvested. You've stepped on it, ignored it and tried to eradicate it, all because of our misplaced in priorities.
We are now a 501c3 organization with the goal of helping disenfranchised individuals, disaster preparedness and raising $250,000 by December 2017, for land, housing and farm equipment!

Campaign re-energized 5/11/2017 with the theme of "mastering the art of doing more with less" and this is how we grew to this point!

(((Sustainable living, Alternative building, Organic gardening, Complimenting the processes of Nature)))
To be the absolute most friendly and helpful place on the planet.

We are about Self-sustainable living, creating better relationships, sharing ideas, skills, talents, tools and events. Uplifting the human spirit is whats needed and uniting seniors and youth to reconnect the generations.

Read more of Humble Farm Refuge mission: https://www.your-inner-voice.com/humble-farm-refuge-501c3-mission.html

Who would not want a home away from home to call home? Who would not want to support the preparation of a safe and secure place, in which to retreat, in case of disaster? Who would not want a grand, nondenominational, but spiritual space within to interact in Nature; participate in activities focused on uniting people, reconnecting to the you within, while practicing self-sustainable living? We are starting from "scratch" and very passionate about our  vision.
Donate  
How can you do anything without actually doing it and taking the necessary steps to maintain it? Help us help you! When we think about a life of greatness, we think about a life of service, and what could be more beneficial and productive than "a grand space and place" in which to do all this?-- Inspired by First Fruits Farm  There is a huge difference between commercial farming and ''farm to table"; "farm to table" is for what we are striving.

We keep mentioning "grand space and place" because of our passion for a dear friend of the same works in Afrika and it is also our goal to unite, and connect our project to his project, which is Toubakolong, The Gambia, West Afrika. We are all connected. Read more: Toubakolong Partnership, Ogbonna Mossi ... - Your Inner Voice https://www.your-inner-voice.com/ToubakolongPartnership.html
Donate  

We have identified "55 acres", in Patterson, Georgia, to be the first farm home, away from home, for Humble Farm Refuge (HFR). This plot of land is most important and appealing because of location, off the beaten path, down a long dirt road, in rural back woods Georgia. Due to the "impeccable credentials" of the current owner, it's not what you do as much as why. The current owner is a long time resident and landowner in Patterson, GA, very dependable, an amazing builder and businessman, who is very compassionate about and instrumental in establishing this location, in the absolute most effective and efficient manner possible.

This honorable gentleman is asking $165, 000 for this beautiful hide-away, free from most urban distractions. Our Goal is to raise $250, 000 by December 2017, in order to further ensure the development of this property.

In our quest to take the road less traveled, please do all you can to get the word out.  By today's standards, this is less, just a drop in the bucket for another opportunity, another challenge, to take aggressive action in creating, preserving and maintaining interdependence. It is a unique opportunity to ensure your investment grows. With everyone doing just a little, this goal can be easily reached, in the most expedient manner possible.

Work for food and board, living off the land, using modern technology, being interdependent facilitates success. Pack your tent, bring your RV or borrow ours because we are inviting you to visit and be a part of our work in progress; participate in helping us with our projects. We are most appreciative of any gifts to our 501 C 3 tax-deductible organization in order to encourage and further our goals.


Thank you for your wisdom in seeing this all!

Art, Founder Humble Farm Refuge.. Donate  

Thank you for your wisdom in seeing this all!

Art, Founder Humble Farm Refuge.

---
Art Thomas, Military Veteran and Founder
Contact Info: Humble Farm Refuge, INC, ATTN: Art Thomas, 310 South Clark Street, Milledgeville, Georgia  31061, Phone: 478-452-2597, email: chef4u31061@yahoo.com
YOUR inner voice
Right here, Right now.

BLOGGING for A Better WORLD!