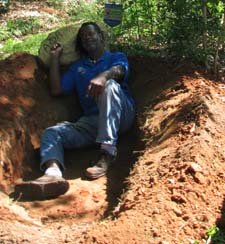 The Money Hole
The money hole is the hole in which goes all our time, ideas and energy. Now, what's left?
When will we realize the devastating effects of this action? It's kinda hard when you're trying so hard to get all you can get before...
We say it ain't about the money, but we do not want to do shit without it. It's amazing how quickly this money attitude has become so deeply rooted in our society. We can't see the forest for the trees.
(((your inner voice.com)))
Continue reading "Know better but won't Do Better"

YOUR inner voice
Right here, Right now.

BLOGGING for A Better WORLD!