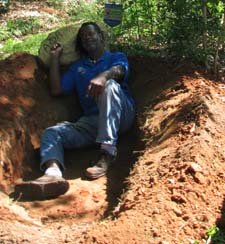 Chicken, Cow, Pig, Supermarket
 6 weeks they go from chicks to 8 lb birds and you never get a chance to taste the real thing, so what are you tasting?
2 billion chickens are created each month for American tables. The process to create these chickens are held from the public's eye. Nobody knows the breed and the cocktail of hormones and antibiotics that go into these chickens. Farmers wanting to raise chickens receive already hatched chick's and are put into competition with one another to grow the largest birds. In 6 weeks the trailer comes to collect the living birds and send off to the supermarkets.. The farmer is in debt because they thought they would earn a good living. Now they are at the mercy of the Corporation to just get by.
 The problem is no one today knows how a chicken , pig or cow is supposed to taste or they would not want to eat the mutants we are being fed.
(((your inner voice.com)))
Down Cows
YOUR inner voice
Right here, Right now.

BLOGGING for A Better WORLD!