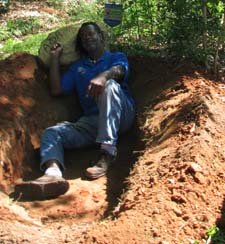 ICANN Who is
Logo used to convey the meaning intended and avoid tarnishing or misrepresenting the intended image Internet Corporation for Assigned Names and Numbers (ICANN)

Guess who's a victim....First big push at policing the web and here's what happened to me.
shutting down long standing active accounts. "ICANN Who is" penalizes the customers of registrars to make its voice heard.
For best Accountability and Stewardship, Instead of penalizing websites ICANN should penalize registrars and registries, if they are required to report to them.
Further, "ICANN who is" shows no consideration, or respect... a watch dog computer,  machine doing what humans should and that is "checking their information" before suspending websites in good standing.
I woke up one sunny morning only to find my website of 10 long years, in good standing, SUSPENDED! (((why wouldn't any worthwhile "watchdog" policing organization consider this, the time and effort put in))) before suspending your ass??? But they want you to respect their expertise and experience.
Well, you go through shock, stress, hassle, you get phone inquiries about "did you pay your bill", "did you go out of business", what's happening, I can't get on, my webpage no longer exist, you get several alert emails from google bots ... and after spending all that time trying to figure out why your website no longer exist, you email your support organization and they send you a nice little email telling you "ICANN has stricter guidelines, check if your contact info is upto date". 
You check and find out something so simple as your email address is incorrect at ICANN who is and go through the process to update the ICANN data base. When you get that information correct ICANN tells you they are "sending an email to the address on file to confirm". If the email address on file is incorrect what good does this do??? (((( Accountability and Stewardship)))) now, shit is getting very deep...
Not knowing what else to do, I filled out the ICANN who is Complaint form. Maybe it was a coincidence but that is when shit started to happen to get help doing what I could not, updating my Who is information.
I had this problem for two days before I was able to push the right buttons to get the right players to do what they were supposed to.

My info was upto date by my registrar, but for unknown reasons ICANN wasn't updated. My registrar said it wasn't their responsibility and ICANN said it wasn't theirs. (((( Accountability and Stewardship)))) but it was my registrar who finally made the update, and within a couple of hours, my site was alive again.
(((your inner voice.com)))
Continue reading "when you're needing"
Continue reading "What Makes you family?"

ICANN's WHOIS Lookup gives you the ability to lookup any generic domains, such as "icann.org" to find out the registered domain owner.
WHOIS isn't an acronym, though it may look like one. In fact, it is the system that asks the question, who is responsible for a domain name or an IP address? To do that, registrars and registries provide public access to data on registered names.
On an annual basis, your registrar is required to send you an annual reminder of your obligation to maintain the accuracy of your WHOIS. Please review the information provided by your registrar in this reminder carefully and make any necessary corrections. This is the WHOIS protocol that ICANN inherited when it was established in 1998.
NOTICE, DISCLAIMERS AND TERMS OF USE:
All results shown are captured from registries and/or registrars and are framed in real-time.  ICANN does not generate, collect, retain or store the results shown other than for the transitory duration necessary to show these results in response to real-time queries.*  These results are shown for the sole purpose of assisting you in obtaining information about domain name registration records and for no other purpose.  You agree to use this data only for lawful purposes and further agree not to use this data (i) to allow, enable, or otherwise support the transmission by email, telephone, or facsimile of mass unsolicited, commercial advertising, or (ii) to enable high volume, automated
(((your inner-voice.com)))
Continue reading "decisions" don't let'em fool you...

YOUR inner voice
Right here, Right now.

BLOGGING for A Better WORLD!