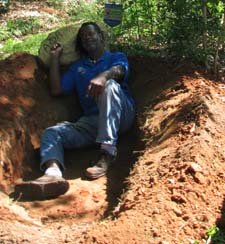 Our Elders
who are our elders, where are they and why?
Elders, you don't hear this term too often. We most commonly refer to them as senior citizens and that's normally thought of as being someone who is too old to be productive in our society. Why, I do not know but it is sad.
If we were doing such a good job at our committment to being good parents why do our children struggle so? Why is our society plagued with depression, unnecessary stress, deceit and betrayal? Why does quality continue to decrease while prices increase? What is a mega church? Yes, some struggle is good and needed but is it good and needed to create struggle for self?
Never thought I would reach this stage in life but am here and dealing. What's easy about life and why do we want our children to have better than us? Sounds like a dumb question but look at what that mentality has gotten us.
Today, there is a role reversal: children have taken on their parents roles and parents are the children, don't know how parents ever let it get away but it is what it is. Supportive and encouraging has grown  deceit and betrayal. Somewhere during the process of American mandatory integration there was a huge role reversal. We thought we were being properly educated but fail to realize we were being educated against self.

Then there's this long standing history of how America received it people. Was it slavery, genocide, violence and abuse. But anyway our history did not allow for family, as we would like to know, which is why we're so easy swayed from each other. Can you imagine a people who would give their people up to slavery? Can you imagine a people accepting slaves under these deplorable conditions?
Who are our elders, what was their intentions and are they still being carried out? There's a reason for everything and we were raised for that purpose but are we still on track and how should our track differ from theirs? Have our needs changed or are we fooling ourselves? We say people live longer but what about our quality of life? All this commercial stuff going on is it really doing us any good? How can it be when you are afraid to go out alone at night, even with all the lights, cameras, security...? Things are just getting worse aren't they?
We've been made to believe, children know more about what and how to do shit than parents, so they think parents to be dumb, out of touch, old school... and parents know this but what can they do?
How did this happen? Parents fell for the trick, hook, line and sinker, hence, we have so abused and neglected their roles as parents the powers that be were able to cleverly make the switch. Institutionalized learning quickly replace home-training.
Then, there are the parents who turned their children against the other parent. Parents literally gave up their role as being good parents to accept the role of being the "new world society dictated parents" in society. Remember why Black Americans used to be model parents? The only problem was we were doing to seek favor and escape punishment of and from the powers that be in America. Now, everyone is striving to be wealthy which we often confuse with success and have abandoned the ways of our elders. 
Well intentioned, but very misinformed and misguided our elders was lead into leading us wrong, for all the right reasons. They were deceived and betrayed and that is exactly what we're doing today, to our own demise. All of which has been done through "Technology". Institutional Learning
If you are not in-tuned with today's technology then nobody wants to hear from you and there goes all the respect for the knowledge and contribution of our elders. Simply there just ain't no need for your old ass because you are considered out of touch.
Money talks and our youth have the money and are entertained by the technology.
(((your inner voice.com)))
YOUR inner voice
Right here, Right now.

BLOGGING for A Better WORLD!