Super Nigga Goes To Ferguson, Mo.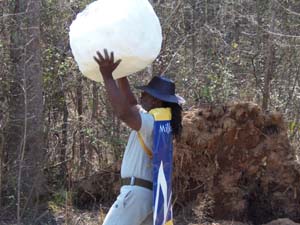 as Reported by Super Nigga (SN)
They hate me, especially my name and the way I speak.  I'm hated more by blacks who think their high class and accepted by whites, more than whites. Super Nigga has more integrity than the Monks, Holocaust survivors, MLK... and they denied me even though I came in peace. These crackers ain't changed, ain't gon never change and it is high time I change.
Even though Super Nigga is the kindest person in the world, doesn't believe in violence, no drugs or alcohol, has gone through more racist bullshit than the average and survived, he's educated, financially stable, good looking, smart, wise,,, Super Nigga is denied everywhere. The thing Super Nigger is,,, "He's not with the bullshit".
They asked me who sent me, identification and I said the same person who sent your asses. Does it look like I have an ID or even a weapon on me? Why won't you let me pass in peace? They asked me what I was doing there? I replied, "YOu are targeted killing BLACKS, abusing your use of Deadly Force and over the past years you have made little headway in resolving these differences and this was all over a fucking cigar.
Wonder how Tom Sawyer and Huckleberry Finn would have survived in 2014?
You're using your intelligence capabilities to make gross assumptions. Any time we look like we're going to organize you destroy it. There's no outlet for us to express our anger and you assume we have no reason to be. You think you know every fucking thing! It's time for niggaz to win, we are sick and tired of having to appease to your bullshit. It's high time we kick  your asses the same way you've historically kicked ours. I am here to kick your ass, without ever firing a shot. Just put down your gun and take off your badge and you will see. You ain't no peace officer of the law, you are snotty piece of shit without them credentials and you abuse them to get your way, not to bring about peace. Just like the rest of these scared ass high class ass niggaz.
I'm about restoring calm and peace to both sides, and securing a lasting truce serving the interest of All people, especially related to police brutality.
You brought a nigga state trooper up in here, with all due respect, who sent him? Is it because he has been approved by you? Boy, you are some low down son of a bitches. Don't you know state troopers are some of the most racist mother fuckers to walk the face of the earth?
You are a trained police officer and you hired a black trained police officer to calm the situation and it will not work because he has the same mentality as you.
Why don't you put down your badges and guns and fight like the man you claim you are? What's wrong with hand-to-hand combat? Take your ass whipping and go home, no harm, no foul.
(((your inner voice.com)))
Continue reading "Being Apart of The Bullshit"
/have-we-progressed-or-retrogressed.html
Continue reading "Police Brutality In America 2014"
YOUR inner voice
Right here, Right now.

BLOGGING for A Better WORLD!