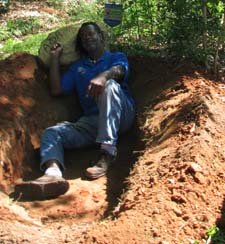 terrible deeds in the name of Religion
Religious freedom is it a humanity reality?
Who's going to admit to committing bad deeds, when you only admit to your perceived good deeds, but what good is a good deed with bad intentions? We're so far from reality we commit bad deeds without a second thought, thinking nobody knows.
Who are the greatest culprits, those who hijacked religion for their own murderous end:
Christians - Slavery and JIm Crow, justified in the name Jesus Christ
Muslims - Christians label them as terrorist.
Jews
The deeds are good, but The People? To which group do the victims want to belong?
(((your inner voice.com)))
Does Religion Really Matter - Your Inner Voice
Human Rights - Your Inner Voice
THE ALARMING TRUTH, Slavery, Terrorism and Islam
Continue reading "Getting Over Being Black"
YOUR inner voice
Right here, Right now.

BLOGGING for A Better WORLD!