the height of irresponsibility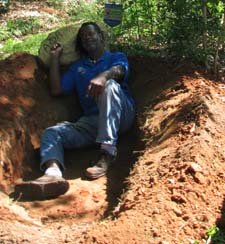 A power struck Government threatening shutdown stresses thousands of government workers and thousands more are affected.
Talking about playing some serious power play games with the lives of it's own people?  Our government officials are threatening shut down because they want somebody to 'Come and talk to them'. Would you shut down your house to encourage someone to come and talk with you?
It seems our highest government officials are making a real power play. If I threatened to shut down our government I would be jailed tomorrow. What kind of message are we sending our people, our private sector? If the government can do it, so can the private sector.
No matter what you do your own government is going to work against you. Why would your own government throw a wrench into the gears of our economy, by failing to pay our bills on time, and threatening the full faith and credit of the United States of America?

You're expected to do the right thing but our government fails to do the right thing. How can you ever win? Threatening to leave hundreds of thousands of government workers and contractors with far less money in their pockets, and some of them furloughed indefinitely. The federal government is America's largest employer.

What can you do for your country, is it making extraneous and controversial demands?

(((your inner voice.com)))
YOUR inner voice
Right here, Right now.

BLOGGING for A Better WORLD!