Perseverance in ACTION!!
by DEE
(USA)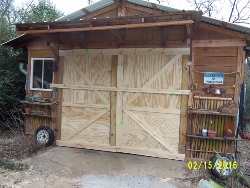 Double Shed Doors
PERSEVERANCE...steady persistence in a course of action, a purpose, a state, etc., especially in spite of difficulties, obstacles, or discouragement.

"KEEP ON PUSHING!!"
Join in and write your own page! It's easy to do. How? Simply click here to return to (((YIV))) Real Discussion Real People.
YOUR inner voice
Right here, Right now.

BLOGGING for A Better WORLD!
What do like minded-people have in common?
More Articles...