Seneca Village...Central Park
by TRUTH
(USA)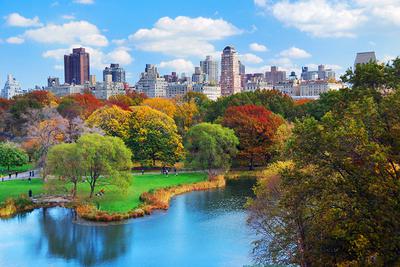 Central Park--New York City
Central Park's landscape near the West 85th Street entrance looks much like the rest of the Park, featuring rolling hills, rock outcrops, and towering trees. However, this area is anything but ordinary. Nearly 200 years ago, this was the site of Seneca Village, the largest community of free African-American property owners in antebellum New York.

The story of Seneca Village begins in 1825, when Andrew Williams and Epiphany Davis became the first African Americans to purchase land in the area, which stretched from West 82nd to West 85th streets between Seventh and Eighth Avenues. Within a week of these initial purchases, the Trustees of the AME Zion Church purchased eight lots of nearby land. By 1829, nine relatively substantial houses had been built in the area.

The village was built in a desirable location, with proximity to the Hudson River's ample fishing opportunities and to a natural source of clean water at a nearby spring. The village's residences ranged from one-room homes to three-story dwellings made of wood and brick, and there are records of three churches and one school in the village as well. The 1855 census indicated that Seneca Village was home to approximately 250 residents and contained 70 houses. Life in Seneca Village was rural and its distance from the bustling streets of Lower Manhattan offered its residents a peaceful life.

Property ownership in Seneca Village provided an important gateway into democracy for African-American men. In 1821, New York State decreed that African-American men were required to possess $250 in property holdings and prove three years of residency in the state in order to be eligible to vote. Many residents became eligible to vote through land ownership in Seneca Village, including a cooper (barrel maker) named James Hinson. Census data shows that his property, including two lots of land and a two-story residence with an attached shed, was valued at $550. (Hinson had originally purchased his property for $325.)

Through the 1830s and 1840s, Seneca Village continued to grow and came to include more Irish and German immigrants among its residents. But when the New York State legislature approved the creation of a Central Park in 1853 and designated the land on which it would be built, the future Park's footprint included the Seneca Village site. Seneca Village residents were not the only people affected by the plan for Central Park, as nearly 1,600 people lived on the tract of land — though Seneca Village was the most densely populated area of the future parkland.

To create Central Park on land that was already occupied, the New York State legislature authorized the use of "eminent domain," the power of a government to take private land for public use, with compensation paid to the landowner. This was common practice in 19th century urban America, and a similar use of eminent domain had been used to build Manhattan's grid system decades earlier. This public acquisition of private land began in 1856, and those owners living within the boundaries of the proposed park were compensated for their property. Many protests were filed in New York State Supreme Court, as is often the case with eminent domain when owners contest the amount of settlement. Ultimately though, all of the residents moved from the land and the community never cohesively established itself in another location.

Despite its short history of only thirty-two years, Seneca Village should be remembered as a strong community that served as a stabilizing and empowering force in uncertain times. For example:
•In 1855, there were 2,000 African Americans in New York and only 100 were eligible to vote. Of those 100 residents, 10 lived in Seneca Village.
•Within Seneca Village, 50% of African-American residents owned their own land; which was five times the average ownership rate for ALL New Yorkers.
•Several Seneca Village property owners, including Albro Lyons, Levin Smith and S. Hardenburgh, were prominent in the abolitionist movement.

Public interest in Seneca Village has resulted in a new research that has shed a light on the area's history. Since 1998, The Institute for the Exploration of Seneca Village History, a group of scholars and archaeologists, have been studying the community and in 2011 they led an archeological dig of the site. Their work uncovered stone foundation walls as well as individual artifacts, including what appeared to be an iron tea kettle, a roasting pan, a stoneware beer bottle, fragments of Chinese export porcelain, and a small shoe with a leather sole and fabric upper. The items help us form a greater understanding of what life was like in Seneca Village.

Central Park Conservancy offers tours of the Seneca Village site, for which you can register at www.centralparknyc.org/tours.