The Absolute Worst Job in the World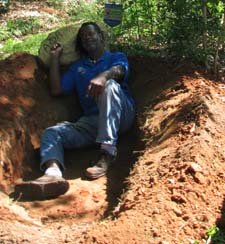 Are you job hunting, do you really want a J?B? What's going on with jobs here lately? Avoid job hunting.
I can always find a job...everybody ought to have a JOB...get mo education so you can "find" a good JOB. What's a man without a good job, the more money the better the job... I jumped in the fire and so should you? So, just where did our jobs really go, why, who's fault... Shawn Anderson say's it best.
"Job hunting" has been a common topic in my email inbox recently. Do I stay or do I leave? Others just want help finding a job. Period.
Earlier in my life, I've known the desperate need to find a paycheck. I've felt the "just survive!" mentality...and it is a very lousy feeling.
Except for situations in the "desperate" column, this is my belief system when it comes to either looking for a job or "breaking-up" with one:
If my goal is to chase "average" in life, I would:
1. Send in a resume every place I could.
2. Wait for responses.
3. Be happy to get a paycheck despite the job.
4. Stay at the same job...despite negative feelings about it.
If my goal is to create an "exceptional" life, I would:
1. Seek to create a job opportunity that motivates me.
2. Take massive action to make what I want to happen...happen.
3. Do something that makes me happy...even if it pays less.
4. Stop wasting eight hours a day in a job that dulls my passion.
Changing jobs is often about finding the courage to look Fear straight into its monster-like face. Life is too short to let fear limit what we do. I believe the quality of our lives will always be expanded when we address the Fear Monster...and survive.
And we will survive.
Every time. http://www.shawnanderson.com/
(((your inner voice.com)))
https://www.your-inner-voice.com/what-kind-of-legacy-will-you-leave.html
Continue reading "Thought for the DAY"
Continue reading "Women Choose To Be Second Class Citizens"

YOUR inner voice
Right here, Right now.

BLOGGING for A Better WORLD!