Megachurch pastor Joel Osteen Resigns, Leaves Christian faith? Is that true?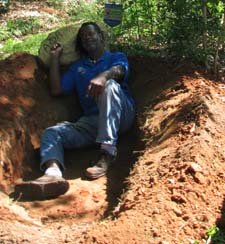 I am leaving the Christian faith.
Joel Osteen also reportedly said, He believes now that the Bible is a fallible, flawed, highly inconsistent history book that has been altered hundreds of times. There is zero evidence the Bible is the holy word of God.
There's going to be some really upset Christians around here...It's like saying, There ain't no Christmas. But why?
First, have "they" ever told the truth, fork tongue?
But is Joel telling the truth and why are Christians so appalled at his confession? Do they act like this when you confess? What about freedom of religion? Isn't it the job of a saint to welcome a sinner? Do white Americans dislike black Americans because we're so unpredictable, possible motives?
Possible motives for Joel, mental illness, tax evasion, sick-n-tired of the shit...?
The eyes and ears of America, if you asked a Native American, what would he say about the Bible? If you asked a Hindu, what would he say about the Bible? If you asked a Buddhist what would he say about the Bible? If you asked an African what would he say about the Bible? If you asked a Russian what would he say about the Bible? Did I cover the vast majority of the people of the world?
Now, if you ask an African-American, Predictable! "I go to church almost every sunay, it is the highlight of my week to give thanks in the house of my creator, I don't care what Joel Osteen says".
Then how do you know better? But isn't being unpredictable predictable?
Official Press Release, April 8th, 2013: "Many people want more answers and are asking why I did this. I have one, simple response: I have come to realize my followers have begun to deify me and listen to me, and not God. This, among other reasons, led me down a path of awakening."
A new coalition of non-believers (NCONB)!
(((your inner voice.com)))
YOUR inner voice
Right here, Right now.

BLOGGING for A Better WORLD!
What do like minded-people have in common?
More Articles...

Joel Osteen's Confession, Chains of Habit






The chains of habit are too light to be felt until they're too heavy to be broken. Osteen's Bible Confession