Twenty-first Century Shaka Zulu
by Queen Nefertiti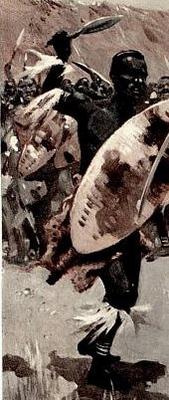 Where are the 21st Century Shaka Zulus?
Are there any 21st century Shaka Zulu men? Yes, there are and I have been fortunate to have one in my life!

This man represents the true qualities of a real man. He is his own person, there is no pretense, he operates with complete honesty, and is willing to step up to the plate when needed.

This Shaka Zulu makes no apologies for who he is and he walks and talks with a purpose. He gives me respect as a woman with intelligence as well as beauty. My Shaka knows I am his help-mate and not his foot stool. He doesn't hesitate to make a decision. He roars like a lion but he's gentle as a lamb.

There are many, many Shakas in the world, we just have to take time and identify them. These men walk softly but they are powerful and are looking for women who can stand with them in changing times to make the world a better place.

Shaka men are not materialistic; they enjoy the simple things in life, hunting, farming, fishing, and making love. They like order and purpose in their lives. These men also like for their mates to be "a lady in the streets and a freak in the sheets"!!

So ladies, if your man doesn't show SHAKA qualities, warrior, leader, motivator, adventurer, hunter, world changer…then you might want to keep looking if you can! But if you can't, work with what you have… then Be Happy for Me!!