Can't Beat the Streets
by Renenet Sekhmet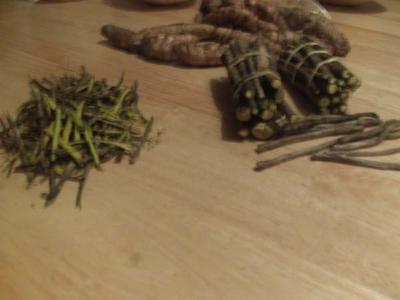 2 of many types of Yellow Root
Why do people try to beat the streets?

Why even try to beat the streets without being aligned with TMH/yOur Creator? We can't. Being raised in Boston's OPP made me realizing the truth in these two sentences when a spiritual person raised in a Atlanta project said them to me, using the word God as Christians do.

Is higher learning necessary or is it required to keep from giving credit where credit is due, like Paula Deen? Are the wrong people looked down at or up to due to differences? How often does walking away from something different hinder future blessings?

On her journey to explore the many paths of life, Auset acknowledges the wisdom in the streets. Seeing street people working with their minds not tainted by education only hands in action, relieved the anxiety she felt about the world depending on technology. Technology a way for Corporates to make others want to do tasks that they won't do but want to reap the benefits without being directly involved.

Auset thought, "real knowledge is found in the street and it can't be beat with TMH by yOur side. Folks know when to dumb down and not be insulted when others think they're crazy while keep an ear to the ground listening to the voice of earth". This was confirmed when Auset found the Yellow root she need for her healing elixir in the streets. She had reached her goal, by bottling the elixir to ensure friends consumed the liquid before their operations in mind throughout this path, staying true to Self.

Hotep, love and light!

Respecting Differences
Be True to Yourself
My Higher Consciousness
Join in and write your own page! It's easy to do. How? Simply click here to return to (((YIV))) Real Discussion Real People.
YOUR inner voice
Right here, Right now.

BLOGGING for A Better WORLD!
What do like minded-people have in common?
More Articles...