Do more with less. Be Fruitful.
by Renenet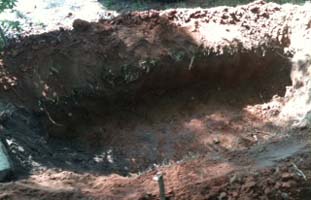 digging a simple wHole, why
Doing more with less…Fruitful?

Over the past few weeks, I've heard the phrase "do more with less". I can say I did not fully understand the phrase when I first heard it - actually I was clueless; however, within the same few weeks I OVERstand the phrase.

Last week, I was given a scenario to interpret the meaning of Fruitful for a friend. The dictionary had already been used to no avail. So why was a child referred to as "Fruitful" I was asked? To me, when a child sits between a man and a woman who is beyond child bearing age, the child symbolically represents reproduction or creation. Meaning, the man and the woman will manifest/create productively together.


What?

There are many who know how to "talk their talk" and never "walk it". You know the ones who always talk about doing this and that but nothing ever gets done, just talk, talk, talk.

I'm going to show you how a man who put talk into action that provided my OVERstanding of "doing more with less and how men and women can be Fruitful – create productively together.

"What a beautiful yard to dig a hole in the ground", I thought. Flowers are starting to bloom; "to each their own", I decided and just watched. Art had decided to create a Fish Pond in his yard. He never did it before but he went right into action. He was quite happy when he finished digging. See picture of Art admiring his work. Great job, one of the hardest parts is over! It was backbreaking work moving and setting the stones around the lining to define the pond. Action, Action, Action is very productive.

Art built the Fish pond in a couple of days because determination was in the driver's seat moving full steam ahead. He purchased a couple of goldfish and acquired lava eating fish and water plants from friends. What a beautiful creation to behold! BUT since I couldn't see the 2 fish I bought a few more that will hopefully multiple to many. Why did I decide to participate? It allowed me to witness something being created from nothing without the"how to" before hand and gain an understanding of how we can do more with less. Even though the fish pond takes up space in his yard, he can do more with less when his fish pond starts to produce fertilizer from the waste of the goldfish which will be Fruitful or a productive creation. Is the Most High trying to tell me something?

Friday the 13th

Doing more with less


Join in and write your own page! It's easy to do. How? Simply click here to return to (((YIV))) Real Discussion Real People.
YOUR inner voice
Right here, Right now.

BLOGGING for A Better WORLD!
What do like minded-people have in common?
More Articles...