Fighting the Elements 2015!!!
by Renenet Sekhmet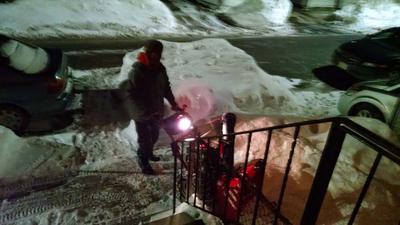 Where's the driveway
Last year I experienced a Georgia Storm. It was nothing compared to the last week's Juno my family in Boston, MA had to fight just to keep a pathway to the street from the house.

Under that block of ice and snow beside the gray car and beside the step on the right of the picture, is a driveway.

Snowblower and shovel weren't enough to remove newly added snow yesterday. Wishing he'd gotten to the driveway after Juno last, Quinn Smith of Boston had to fight the elements by using a pick ax to get the job done.

There's a blessing somewhere with this type of weather even with all the aches and pains of snow removal. I moved south when I wasn't able to recognize the blessing.

Hotep, love, light!

Who Do We Think We Are
My Higher Consciousness
Join in and write your own page! It's easy to do. How? Simply click here to return to (((YIV))) Real Discussion Real People.
YOUR inner voice
Right here, Right now.

BLOGGING for A Better WORLD!
What do like minded-people have in common?
More Articles...