Beijing's Bird's Nest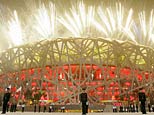 I have always wanted to know what the construction, operation and maintenance cost of our big stadiums, amusement parks and similar facilities. It is really beautiful isn't it?
The area around Beijing's massive Bird's Nest stadium will be turned into a shopping and entertainment complex in three to five years.
Officially known as Beijing National Stadium, the showpiece of the Beijing Olympics has fallen into disuse since the end of the games. Paint is already peeling in some areas, and the only visitors these days are tourists who pay about $7 to walk on the stadium floor and browse a pricey souvenir shop.
Plans call for the $450 million stadium to anchor a complex of shops and entertainment outlets in three to five years. The company will continue to develop tourism as a major draw for the Bird's Nest, while seeking sports and entertainment events.
The only confirmed event at the 91,000-seat stadium this year is Puccini's opera "Turandot," set for Aug. 8—the one-year anniversary of the Olympics' opening ceremony. The stadium has no permanent tenant after Beijing's top soccer club, Guo'an, backed out of a deal to play there.
A symbol of China's rising power and confidence, the stadium, whose nickname described its lattice of exterior steel beams, may never recoup its hefty construction cost, particularly amid a global economic slump. Maintenance of the structure alone costs about $8.8 million annually, making it difficult to turn a profit.