Candace Parker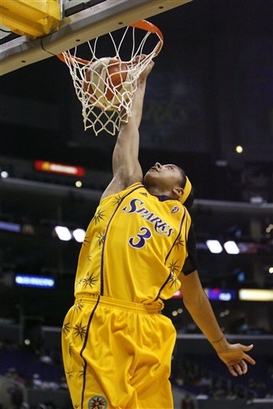 Second woman to dunk in a WNBA game
Candace Parker of the Los Angeles Sparks dunks in the second half of a WNBA basketball game against the Indiana Fever, Sunday, June 22, 2008, in Los Angeles. The Sparks won 77-63.
Candace Parker became the second woman to dunk in a WNBA game and the Los Angeles Sparks beat the Indiana Fever 77-63 on Sunday night.
Parker took a pass from Raffaella Masciadri, dribbled the length of the court and dunked with her right hand with 29 seconds to play.
"When I caught the ball and there was an open lane, it was a good opportunity," Parker said. "I'm happy that I was able to do it in Los Angeles in front of the home fans."
Lisa Leslie, her Sparks teammate, is the only other WNBA player to do it— throwing a shot down during a game in 2002.
"Obviously, it means a lot having the first person to do it on my team," Parker said. "There's going to be more to come in the league itself."
Parker finished with 10 points, 10 rebounds, four blocks and four assists. Leslie added 17 points, nine rebounds, four assists and three blocks.