Chernobyl Choir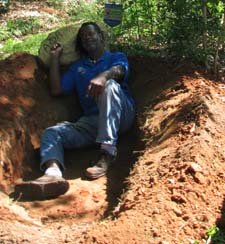 That, we shall never forget.
Is the use of this energy worth its side-effects? Are the side-effects affordable?
Voices of the Chernobyl disaster
A souvenir from the Chernobyl Children's Choir and survivors of the Ukrainian nuclear disaster, the world's worst nuclear disaster at Chernobyl in Ukraine is still haunted by fears over the safety of atomic energy. Now, Japan.
Sometimes I think about the atmosphere, the ones we spend so much time and effort avoiding or the ones in which we willing expose ourselves, which is the most harmful?
This souvenir along with a blessing was shared with me in Kaiserslautern, Germany as a token of appreciation for providing overnight accommodations, as the choir was passing through. They were headed home from a tour when their bus pulled into our parking lot, as a safe place to break.
It all started when a member asked to use our facilities to refresh themselves. As I learned about them and their plight, we invited them in and shared our facilities and hospitality. The encounter concluded with an American style breakfast, songs of joy and praise and sharing of small tokens, that we shall never forget.
The Ukrainian nuclear disaster, at 1:23 in the morning, April 26, 1986, was and still is the worst nuclear accident in the history of the world. In a way, how honored were we to do as much as we could for such survivors!
A little history: Monitoring stations in Scandinavia began reporting abnormally high levels of radioactivity, uprooting more than 100,000 people. Finally, nearly three days after the explosion, the Soviet news agency TASS issued a brief statement acknowledging a nuclear accident had occurred.
Memories of survivors were collected for the 10th anniversary of the disaster in the book Voices from Chernobyl. LISTEN NOW.
In The Oral History of the Nuclear Disaster by Svetlana Alexievich", we hear some of their stories: those living with illness and fear, and those sent in to clean up the mess and monitor the damage.
Living under a veil of ignorance, secrecy and fear no one willing to be the first to admit what they don't want to realize and it being too late by the time they found out.
A nuclear accident does not only kill or harm those working in the plant or close vicinity thereof but, also those living in towns and surrounding communities, babies, children, handicapped, pets... those sent to clean up the mess and monitor the damage. Illness and fear that will last for years to come.
Again, congratulations to the Choir of Chernobyl and their World Mission to make everyone aware of their plight and the serious dangers of nuclear plants. Are they really worth it?
Submit comments on this message. Email Art
"Go confidently in the direction of your dreams. Live the life you have imagined."--Henry D. Thoreau
Members of the choir at a stop-over in Kaiserslautern, Ge.
Of all the people!