Donald "Bee" Hill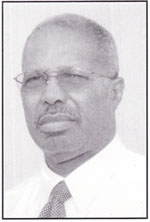 Donald "Bee" Hill
On November 3rd vote Donald "Bee" Hill
City Council – District 3
"Concerned and Committed"
For A Better Milledgeville
A Special Message From Donald "Bee" Hill
Dear Citizens of District 3,
Tired of Business and Politics "As Usual"? Do yourself and me a favor, vote early.
This election year we face some tough choices in District 3. Past decisions and choices have created a crisis in our community. November 3rd presents an opportunity for you and I to change all of that. We must elect a new council person that will best represent you.
I grew up in District 3 and your concerns are my concerns and this time, more so than ever, it is time for a change. My first pledge is to you, the citizens of District 3. I am committed to making myself available to you, listening to your concerns and addressing them accordingly.
To Work smart and hard to improve the image in District 3! On behalf of the citizens of District 3, I pledge to work together with fellow council persons on issues that are in the best interest of the city of Milledgeville and to be accessible to the voters in District 3 keep you informed and to solicit your input.
To promote future visions! Education and our youth are the keys to a brighter and more prosperous future. We must implement more community programs and make better use of current programs to make that happen. I pledge to take advantage of every opportunity to do that in District 3. "We don't fear the future -- we shape it"
To strengthen city services! Employment, in the past, we've made a practice of hiring people outside the city of Milledgeville to fill jobs in Milledgeville. In most cases, this practice has led to local citizens losing jobs and missing out on opportunities that were intended to help citizens of Milledgeville. Monies intended to help local citizens are being used to attract out of towners. Plus, no citizen values what goes on in Milledgeville more that citizens who grew up here. Making Milledgeville more stable and attractive for business and personal growth. Therefore, we are going to use every available means to get local citizens qualified for employment.
We can win this election and the choice is clear! Vote early or November 3rd Donald "Bee" Hill, City Council – District 3.
Sincerely,
Donald "Bee" Hill
Candidate for City Council – District 3
Contact me: 478-452- 0348
District #3 Comments, Questions or Concerns Email Donald "Bee" Hill
- Former City Council Member, served 10 Years
- Retired Social Worker, Bill E. Ireland YDC
- Fort Valley State University Graduate
- Co-Founder Milledgeville Oconee Area, Inc. 100 Black Men of America
---
-------Special Notes:-------
---
---Early voting, starts 12 October 2009, Baldwin County Courthouse.
---Transportation to the polls call: 478-452-0348
Paid for by the Campaign to elect Donald "Bee" Hill, City Council – District 3, Milledgeville, GA
State House District 141, Vote Rusty Kidd