Mims' Ribs and Groceries
Macon, Georgia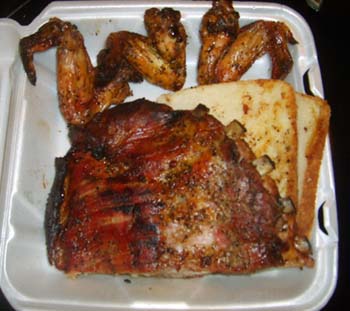 I wish I could let you taste them. Mims is another best kept secret in Macon, Georgia.
So far, you want find this food or place listed with local advertisement for tourist. You just have to know where to go and it is well worth the effort.
This is what Mims' customers say about Mims' products and services:
Prices are Fair!
Food is EXCELLENT!
Portions are generous! Mo for your Money.
Attitude is GREAT!
Credit and EBT Card accepted!
Ronnie "Ron" Mims is owner/operator, a great human being and entrepreneur. In addition to providing "The Best Ribs in Macon, Georgia", Ron Mims work very hard to combat the negative stereotypes about the Belleview community.
Mims prepares his food on a large grill stationed just behind his grocery store. Food is served under his carport, just like a garden cafe. You can eat it there or take it out. Mims is very clean.
The atmosphere is traditional and friendly, reminds me of New Orleans and never a boring moment. You sit right in the middle of The Belleview Community, one of the oldest communities in Macon, Georgia. Of all the bad things I hear about Belleview, Mims changes all of that.
Food is always served fresh and hot. On a busy day it is well worth the wait.
Time to spare, there is always someone with whom to chat.
Mims cooks at his store on Friday and Saturday! Call before or just stop by. Don't forget to say hello to John and Rainbow.
Mims' caters any size party!
Mims' Ribs and Groceries
Ronnie "Ron" Mims
3809 Munford Road
Macon, Georgia 31204
478-361-1106 Phone

Mims' Ribs and Groceries gets our stamp of approval: "CFP"--Clean, Friendly and Professional.