New Birth Missionary Baptist Church of Macon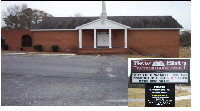 Welcome To Our Online Ministry!
We Invite You To Attend. Our services are as follows:
Sundays
Church School: 10a.m.
Worship: 11a.m.
1st and 3rd Sundays
Early Morning Worship: 9a.m.
1st Sundays
Holy Communion
Wednesdays-6:30p.m. and Saturdays-4p.m.
Discipleship Training
Fridays-6:30p.m.
Radio Broadcast---WBML/900 AM
Pastor Leon Ward, Jr.
(Founding Pastor)
1830 Williamson Road
Macon, GA. 31206
478-788-0079

Email Us! We look forward to hearing from you.