Olive Forge Herb Farm
Culinary, Medicinal and Wreath herbs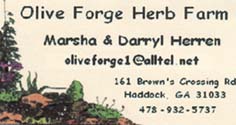 Offering )))good health and prosperity((( to all visitors!
"Over 360 varieties"
Including 18 different varieties of Rosemary.
Display Gardens, Nurseries and Gift Shop.
Fragrant toiletries, soaps, teas, culinary herbs and sugars are made on the premises.
Stay energized all day!
Proper foods and the right herbs can give your mind and body a healthy and natural boost to keep you going all day.
I have asked Marsha and Darryl, of Olive Forge Herb Farm, to pass on advice to us who want to stay alert and healthy? They have been there, done that and got the T-Shirt.
Bringing good health to you through complimentary therapies, good humor and joy.
Don't be surprised if you are invited in for a cup of spice tea and lavender cookies.
Email or Phone Marsha or Darryl See if they have what you're looking for: Phone: (478) 932-5737
Olive Forge Herb Farm
161 Brown's Crossing
Milledgeville, GA 31033
Phone: (478) 932-5737
Email Olive Forge Herb Farm


Related Links:
Celestial Blessings invites you to experience The Magic of Nature.