Roshanda Moore Gordon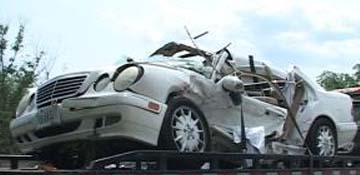 Roshanda Gordon, 34-years-old, Lake Joy Road and Feagin Mill Road, Warner Robins, Georgia. Failing to yeild at a red light, two people met for the first and last time. One remains to witness the story and we wish him all the best.
I can not be wrong every time, but this time dead or alive, I was wrong and I had just left church? Was I on the phone, too young….but they tell you, it was my fault. So I will concede and pay the ultimate price. However, I have two beautiful little children, a nine year old very nice and quite handsome and a cute little four year old daughter, my husband, a beautiful mother and father. My grandma is just that in our eyes, old, so you must know intentionally running a red light and causing an accident were not my intentions. It wasn't in my show. Especially where I would hurt anybody, especially myself. I might have had my… As I blunder these lines.
No one to tell my story, but know I mean you well, if I was running; only running in my head. Up before the kids, catching early church run at least not on my side, so graciously I subside. I am willing to make the ultimate sacrifice Grace and Mercy…
Art