"Tori Lee"
The Mayview Road Band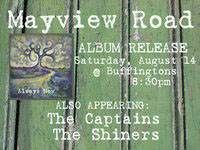 The "Always Now" album
*** New*** CD Release!!! Tori Lee's CDs ARE HERE!!
"The first song I ever wrote...I wrote it on a paper bag." - Tori Lee
The "Always Now" album is the album about which everybody's talking! INSPIRATION for everyone! I call it The inspirational Album of The Year, Check it out! See what the album Always Now does for you? Listen and purchase at Dig Station!
Mayview Road - "Always Now" album is Americana-folksy-jazzy-bluegrassy (original songs by Tori Lee, recorded by Mayview Road 2010)
Also, check out Tori Lee in the short film "Remember When" - a short story of a young couple dealing with an atypical case of Alzheimers Disease. ...by Jason Ramsey(Ramjet Films)
Give a listen, Become a fan! "I think it's good stuff, universal music, honest and deeply considered as far the lyrics. The musicianship is a good collection of backwoods players sprinkled with a little God-dust." - Ed Averett
COVER SONGS include "Prince", "the Grateful Dead", and "Phish".
Dig Station - Purchase "Always Now" click here
The Always Now Album is also available at iTunes! and Amazon.com
visit facebook for Tori Lee's latest updates.
An Awesome lineup of musicians...- MAYVIEW ROAD (Tori Lee, Stuart Pittman, Ed Averett, Jason Martin, Russ Edwards, Judson Pittman)Americana-folksy-jazzy-bluegrassy (originals)
- THE CAPTAINS (Russ Edwards, Dave Lipscomb, Ed Averett, Stuart Pittman, Jason Martin) Bluegrass/Newgrass with a side of jam (originals & covers)
THE SHINERS (Thomas Kay, Nic Goodson, Ed Averett, Jeff Flemister, Seth Watts) Alt-Country/Rock (originals & covers)
Mayview Road's fan club - facebook!
---
Album Art Work by Jonathan Newsome - Natalie Wever Newsome's Facebook Photos - Jonathan's Paintings
Photography - JOHN-ROBERT WARD II PHOTOGRAPHY
(((your inner voice.com)))