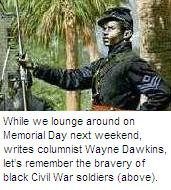 Remembering the Bravery of our Civil War Soldiers
By: Wayne Dawkins, BlackAmericaWeb.com
Memorial Day is rooted in honoring Civil War dead. The holiday was exclusively about Union and Confederate soldiers until World War I.
Since 1971, Americans set a side a day for honoring all war dead. The last Monday of May is Memorial Day and the unofficial start of summer fun.
A week ago, I listened to Gregory Cherry of Newport News, Virginia recall U.S. Colored Troops who successfully defended Fort Pocahontas in Charles City, Virginia from a Confederate attack.
To borrow contemporary slang, "haters" assumed during the war that blacks would wilt and run when faced with battle. Just may be he saw himself and what he would do if he was in their shoes. That's what Confederate Gen. Fitzhugh Lee assumed when his 2,500-member cavalry charged the fort defended by 1,400 black soldiers supervised by white commanders.
During the heat of battle, do not assume anything.
Fitzhugh Lee, Robert E. Lee's nephew, issued a surrender order, according to the account on the Fort Pocahontas website.
Union Brigadier Gen. Edward Augustus Wild quickly declined, and the shooting was on.
Accounts vary, but conservatively at least 100 Confederates were killed, plus 20 Union soldiers. The rebels were whupped.
The successful defense of Fort Pocahontas was significant. That clash was unlike others involving black troops, which were virtual suicide missions, according to Cherry, bugler for U.S. Colored Troops re-enactments.
Jerome Bridges, a Newport News Park ranger, became fascinated with one particular member of the U.S. Colored Troops in the Army of the James, Pvt. Harrison Woodson.
Woodson, a slaved in Kentucky, became a soldier when a white man from a bordering state paid his master. Woodson was chosen to serve instead.
Woodson was sent to Fort Nelson, Kentucky, and dispatched to the U.S. Colored Troops' 122nd Regiment in Newport News.
In 1865, Black soldiers guarded 10,000 to 20,000 Confederate prisoners.
"The Confederates resented being guarded by blacks," explained Bridges. "It was a storm waiting to break loose. The last straw was the day a prisoner died."
Woodson killed a Confederate prisoner then was court marshaled. He was later found innocent after it was proven that he'd followed a direct order from a lieutenant to kill the prisoner because the rebel defied an order not to venture too far from the camp after sundown. Benjamin Hurt, the prisoner, tested the rules with lethal consequences: Woodson's musket misfired, so the soldier bayoneted the man in the back.
Woodson, born in 1839, died in 1903, and his two sisters paid for his funeral. In the 1920s, the siblings successfully were reimbursed by the federal government.
Three years ago, Bridges went to the National Archives near Washington, D.C. and found "War of the Rebellion" records about Pvt. Woodson. He now brings history come alive by doing one-man dramatizations of the soldier's life at special events.
Meanwhile, Fort Pocahontas, located between Richmond and Williamsburg, hosts re-enactments of the great battle and is open for visits. Harrison Tyler, grandson of 10th U.S. President John Tyler, said he purchased the 60-acre site a decade ago, historically preserved the fort and established a museum.
Also Gregory Cherry, who told the Fort Pocahontas story while giving a tour of several historic sites, does historic preservation. He restored the James A. Fields house in Newport News, owned by a former runaway slave who later became a county prosecutor and legislator in the late 1800s. Fields was in the first graduating class of Hampton Institute and Howard University Law School.
Last month, I wrote about Confederate veterans who fiercely defend their desire to honor their ancestors in April. I noted most blacks' understandable disdain for ceremonies that honor people who fought to preserve enslaving blacks.
A healthier exertion of our energy, I suggest, would be honoring black Civil War dead who deserve wider recognition.