Little Richard Returned To Macon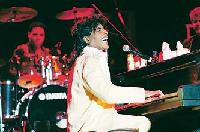 Little Richard, a famous maconite, returns to Macon
Little Richard, I thoroughly enjoyed your perfomance and if you should happen to read this article and like it, how about a little: "awop-bop-a-loo-bop-alop-bam-boom", "Shut-up" will also do.
It was one of the the Greatest moments, I have witnessed in central Georgia. One of the greatest display of Love, Admiration and Respect, I have seen in a long time.
Saturday, October, 8, 2005, one of The World's Leading Entertainers appeared and performed in Little Ole, Macon, GA.
It was my first concert in years and a star whom I have always admired from a distance.
Someone with so much courage and talent. I thought I had some nerves or had seen it all. But, very soon I realized mine were nothing compared. The limo, police escort, cameras and the standing ovation, all contributed to the immediate rise in my level of curosity and anticipation. I started to have doubting thoughts waiting and wondering -- Is it was going to be worth it, how and why.
I thought of many of his records I heard; times I had listened and was moved by his music, seeing him on television and the number of entertainers and others he had help. It all just hit me and moved my spirit.
All that was swepted away when the opening band announced "Little Richard is in the house". The crowd went temporarily insane.
The opening band soon ended. Little Richard's band setup and started to play. It was a whole different sound. Their presentation was beautiful, spectacular and so amazing. It all happened effortlessly.
Their music immediately took me back to a time when I heard the songs played on radio and television. They sounded even better.
Soon, a police escorted entourage entered the building and I saw Little Richard, in person, for the very first time. There was a standing ovation and noises that drowned the sound of the band and lasting until Little Richard hit the stage.
He responded just as warmly to the audience, bowing, waving and blowing kisses to everyone. Before being seated at his grand piano, Little Richard so gracefully and eloquently as only Little Richard can, stood atop of his grand piano. There, he took a bow and blew kisses. It was on-and-popping from that moment on, the greatest expressions of love, admiration and respect.
Little Richard was introduced by a man also greatly admired and appreciated by Maconites --- Macon's former Mayor, C. Jack Ellis, of whom, I too am a great fan, plus he was my armed forces recruiter. Yes, he recruited me and many more like me in 1976. SSG. Jack Ellis was a very good man and soldier. I will tell that story another day.
Mayor Ellis introduced Little Richard as the son of Macon and gave a hardy welcome back home, as the crowd chanted, We love you Little Richard. It was a very touching and heart warming experience, especially to see two men, showing so much love and admiration, on stage, for one another.
Little Richard announced and presented a check to the city of Macon for $30,000. He mentioned how proud he was of the city of Macon, his long term dedication to, promotion of, and the use of his celebrity status in local tourism campaigns. Well, you can imagine how positive the crowd responded.
He thanked Maconites for such a hardy welcome and naming a street after him, "Little Richard Penniman Boulevard. Then, Little Richard announced he wanted a statue in his honor, with water coming out of his hand and every time it comes out, I'll say Shut-Up". Jack Ellis responded, "there will be buckets at the door, so we could get started building that statue, we will make that happen". They cut-up for a minute or two and the show began.
I do not imagine anyone dressing and looking so well in yellow, white and silver as Little Richard. Yellow suit, white shirt, glittery silver sequined choker and boots. He was sharp. Going to his piano, Little Richard announced he would be 73years old, December 5, 2005. That's also my friend's Dot's birthday too. He mentioned and reiterated throughout his concert, the importance of a coming together as races and the need for brotherly love.
He told of being born in a Macon hospital and growing up in the Pleasant Hill Community. Washing dishes in local establishments, including the local bus station for $10 a week. Playing and singing in local clubs and surrounding communities until he made the song "Tutti Fruiti". Little Richard credited that song to "what took him out of Macon and started him on his way".
During his concert, Little Richard greeted and reached out to touch the hand of many of his childhood family members, friends and schoolmates. For a brief period, Little Richard shared the stage with his nephew, who appeared to about six years old. He took moments out and personally addressed members of his audience. He sang songs bringing back vivid memories of times gone by for them. He sang a song that was a hit when his father was killed in Macon, GA, Pleasant Hill Community. Some how, members of the audience managed to get through security and surrounded the stage. It was a sing-a-long at a family reunion. At certain times Little Richard invited members of the audience to share the stage with him. Most notable was when he sang "Good Golly, Miss Molly".
Little Richard introduced his new book, title: Finding Peace Within and presented each member of the audience with a copy, which included an autographed "beautiful photo" of himself. A Classic Christian Devotional -- Learn to walk with the Savior moment by moment; can be purchased at www.inbookseast.org
At will, he gave more photos, greeted more people and expressed his appreciation and love for the city and their support.
Little Richard opened the door for new acts, artist, and opportunities by expressing "he and his band are always looking for new talent".
Little Richard made mention that, "I did not know people like Billy Preston, Mick Jagger and James Brown, were going to be famous", as if he helped them along the way.
For the first time, I saw and experienced first hand what the rest of the world already knew, "Little Richard Penniman from Macon, GA; the entertainer who draws fans of all races, ages, genders and incomes. I witnessed his explosive music, charismatic persona and his dedication to God.. I now know how Little Richard achieved world renowned success and is credited with defining the dynamic sound of a musical era, which influenced popular music to follow, until today.
We as a people and especially Maconites can be especially proud of his God-given talents and willingness to share with people in need, all around the world and to know and boast of it all starting in Macon, GA. "awop-bop-a-loo-mop-alop-bam-boom"
A special thanks to Maconites vendors providing delicious food. Nu-Way Hot Dogs. I would Go a Long Way for a Nu-Way and for an old boy like me, growing up near Macon, this was a special treat. My friend Brenda assisted them.
Dab's Cafe laid out an awesome soul food buffet.
Visit other Little Richard fan sites.