Luther Vandross - One Voice, Our Thoughts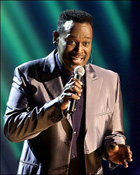 Saying goodbye to one of the world's greatest inspirations of today's time.
Luther Vandross died Friday, July 1, 2005. Since suffering a stroke in his Manhattan home on April 16, 2003, Luther stopped making public appearances
Luther Vandross.com So Amazing Star Tribute

Born in New York City in 1951, Mr. Vandross was the youngest of four children. His father, an upholsterer, died when Luther was still a boy, leaving his mother, a nurse, to support the family.
While in high school, Luther developed an affinity for the legendary Motown label's all-female acts, and for the gospel-soul sounds of artists like Aretha Franklin and Cissy Houston. Dreaming of a career in music, he briefly attended Western Michigan University.
In 1972, a song Mr. Vandross wrote, "Everybody Rejoice," was included in the Broadway musical "The Wiz." But his biggest early break came when he landed a job as a backup singer for the British glam-rock artist David Bowie, who later hired him to work on vocal arrangements for the album "Young Americans."
Mr. Vandross soon became a sought-after backup singer and arranger, working for artists from Bette Midler to Barbra Streisand, and he helped pay the bills as an anonymous performer of commercial jingles.
It is reported that Luther's weight was of concern, first to others and then to himself. That because of this perception, earlier on, Luther's voice was only used. After being known as established singer, Luther did take on the challenge and lost the excess weight.
In the late 1970's, he recorded under different names and with a variety of groups, including Bionic Boogie and Change, and sang on the Chic hit "Dance, Dance, Dance."
He finally signed a contract with Epic Records, which released his 1981 debut, "Never Too Much," which reached the top of the R&B charts and sold more than one million copies, effectively sparking his career as a star. Through the 1980's, he released a string of hit albums, including "Forever, for Always, for Love," "Busy Body" and Any Love."
Mr. Vandross had become a superstar with black audiences, but he often appeared frustrated about the difficulty of crossing into wider pop stardom.
"I didn't buy blond wigs; I didn't walk differently," he told one reporter in 1995. "One of the things I admire most about, let's say, Aretha, is that she got crossover success based on her own terms, own talent, own approach."
He did broaden his audience further with the 1991 album "Power of Love," and through the 1990's he performed hit duets with the pop stars Janet Jackson and Mariah Carey.
Mr. Vandross won a Grammy for best R&B male vocal performance in 1991 for "Here and Now," two in 1992 for co-writing the song "Power of Love" and performing on the album of the same name, and another in 1997 for his performance of "Your Secret Love."
The Rev. Jesse Jackson, in a telephone interview last night, described Mr. Vandross as "a voice of rare vintage."
"In the tradition of Nat Cole, he was a singular male voice," Mr. Jackson continued. "He was an artist who brought a great sense of dignity to his art."
Mr. Vandross had long struggled with obesity, hypertension and diabetes. His weight often fluctuated, and he told a television interviewer in 2001: "I've never been more healthy than I am now. I wish I was this healthy when I was 25."
Prior to his April 16, 2003 stroke, Luther Vandross performed live at New York City's famed Radio City Music Hall.
Mr. Vandross is survived by his mother, Mary Ida Vandross.
Thank God for Luther and his music. With it we shall all hold loving memories for one of the "world's greatest" R&B Artists.
I had a lovely day today and I thought about you, Luther.
The Man Who Made Us Believe in the Power of Love
How did you do it, Luther?
How did you take so many ordinary men and ordinary women in so many ordinary moments and infuse them with romance and passion?
How did you transport us, time and again, by putting a soundtrack to the sweetest moments of our lives?
Goin' out of my head Over you.
Darling, have a heart. Don't let one mistake keep us apart.
Nature and fate surely had a big hand in it. Aren't we lucky that, Way back when, David Bowie had the soulfulness and insight to notice you. And Roberta Flack eventually pushed you out, away from the backup microphones and onto center stage?
***So Amazing***
Luther Vandross.com So Amazing Star Tribute
So Amazing Star Tribute Track Listing
Mary J. Blige Never Too Much
Usher Superstar
Fantasia 'Til My Baby Comes Home
Beyoncé & Stevie Wonder So Amazing
Aretha Franklin A House Is Not A Home
Donna Summer Power Of Love
Alicia Keys & Jermaine Paul If This World Were Mine
Elton John & Luther Vandross Anyone Who Has A Heart
Celine Dion Dance With My Father
Wyclef Jean Always & Forever
Babyface If Only For One Night
Patti Labelle Here & Now
John Legend Love Won't Let Me Wait
Angie Stone Since I Lost My Baby
Jamie Foxx Creepin'
Luther Vandross.com So Amazing Star Tribute "What an Awesome Tribute, A classic and definitely collectors item for those special times"
Vandross Funeral Full of "Jet" Moments
Get Lyrics for all your favorite artist!