Alpha Phi Alpha Fraternity names new Executive Director
National search yields Chicagoan to head nation's oldest black fraternity
(Baltimore, MD) Oct. 1— Willard C. Hall Jr. has been appointed the new Executive Director of Alpha Phi Alpha Fraternity, Inc. Hall, who served most recently as interim executive director, was recommended by a national search committee and selected for the day-to-day executive post by the fraternity's board of directors at its annual convention in August. The official appointment was announced by the fraternity General President Darryl R. Matthews Sr., at the conclusion of the convention—held in Houston, prior to the string of hurricanes hitting the Gulf Coast.
"Willard Hall brings a unique set of qualities to the office, at a time when we need them," said Matthews. "The search committee had a list of qualified applicants and we are pleased to know that we had a good pool in which to choose from—and that Willard will now be leading the General Office staff to new heights."
Hall becomes the 25th man to serve as the chief operating officer of the nation's oldest black Greek-lettered organization. His term began September 1, 2005. Hall, currently a member of Theta Mu Lambda Chapter in suburban Chicago, was initiated at Theta Theta Lambda Chapter in Frankfurt, Germany, on May 6, 1989.
Hall holds multiple post-secondary education degrees. He earned a Bachelor of Science in Business Management degree from the University of Maryland, College Park, European Division; his Master of Science in International Relations from Troy State University in Troy, Alabama. He was awarded the Educational Specialist Degree from National-Louis University with an emphasis on teaching and curriculum development. He has completed extensive post-graduate study in adult-education, not-for-profit management and higher education administration. He is in pursuit of his doctor of education degree (Ed.D.) at National-Louis University with a primary research interest in the area of urban education policy development and implementation. His dissertation topic is "Parental Involvement in School Governance."
Professionally, Hall is the president and senior consultant of Hall Management Corporation, which specializes in education-systems consulting and not-for-profit organization capacity building. He has served in adjunct faculty positions at the following Chicago area institutions: National-Louis University; Truman College; Keller Graduate School of Management of DeVry University; and in the Department of Community Development at North Park University. Hall is a retired U.S. Air Force Non-Commissioned officer with 24 years of honorable service.
Fraternally, Hall has held every chapter-elected position. He has lived and served in three of the organization's five regions: Eastern, Southwestern and Midwestern. In the Eastern Region he held the post of international district director serving chapters in Europe and Africa. He has served as national chairman of the Racial Justice and Public Policy Commission. Prior to his membership in Theta Mu Lambda, Hall was active in Omicron Chi Lambda in Wichita Falls, Texas; Kappa Chi Lambda in Waukegan, Ill.; and Mu Mu Lambda in Glyn Ellyn, Ill. He is a Life Member of the Fraternity.
Founded in 1906, on the Ivy League campus of Cornell University, Ithaca, NY, Alpha Phi Alpha Fraternity provides leadership and service in the areas of education, health, public policy, civic and social responsibility, and citizenship-leadership development—individually and through cooperative partnerships. At 700-plus college and alumni chapters in the U.S., Africa, Asia, Europe and the Caribbean, more than 150,000 men have been initiated into the fraternity. Alpha Phi Alpha was also the foundation which resulted in eight other African-American collegiate fraternities and sororities, with which collectively, now number more than two million around the world.
Notable Alpha men include Martin Luther King Jr.; Justice Thurgood Marshall; former U.S. Sen. Edward Brooke; U.S. Representatives Charles Rangel, Bobby Scott, and Danny Davis; former U.S. Ambassador to the UN Andrew Young; Authors E. Lynn Harris and Eric Jerome Dickey; Attorney Chris Darden; Film Directors Gary Hardwick, Rob Hardy and Will Packer; National Urban League President Marc Morial; Educators W.E.B. DuBois, John Hope Franklin, Cornel West, and Norman Francis; former San Francisco Mayor Willie Brown; businessmen William Pickard, John H. Johnson and Joshua Smith; entertainers Duke Ellington, Keenan Ivory Wayans and Lionel Richie Jr.; sportsmen Jesse Owens, Paul Robeson , Lenny Wilkens and Eddie Robinson to name a few.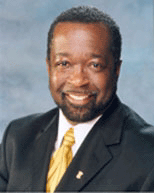 Willard C. Hall Jr.
Executive Director
Alpha Phi Alpha Fraternity, Inc.