Easter 2011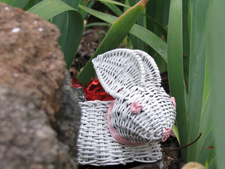 What about Good Friday.
I am still excited knowing Good Friday is coming my way. I enjoy so much preparing my gardens and helping others, all to get an early start on the growing season, while avoiding the frost. That is what Good Friday means to me. The day I can't, I don't know what I'm going to do.
Is the meaning of Easter being lost?
So what does rabbits and eggs (ostereier in Germany) have to do with Easter? Fertility is associated with rabbits and eggs during Easter. So how did we get the Easter egg hunt?
Over time, missionaries transformed these celebrations to religious reasons and rabbits and eggs remained, even though their meanings have changed for most people.
Easter represents victory over death. Resurrection symbolizing eternal life granted to all who believe. It is the oldest Christian holiday and the most important day of the church year.
Easter Sunday is preceded by the season of Lent, a 40-day period of fasting and repentence culminating in Holy Week, and followed by a 50-day Easter Season stretching from Easter to Pentecost.
(((your inner voice.com)))