Five0 Squad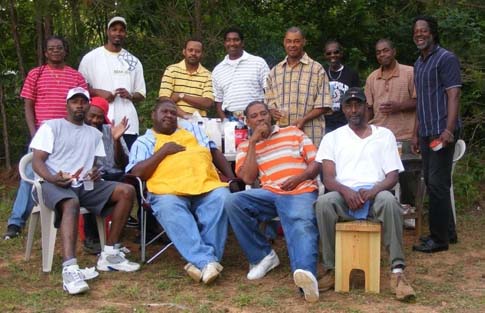 Milledgeville, Georgia
50 gang Milledgeville
L-R Phillip Yarbrough, Bobby Simmons, Lonnie Clemons, Willie B Collins, William Phelps
Back-Row L-R Kenneth Washington, Todd Smith, William Grable, Art Thomas and Anthony Bolston.
Mike Davis, Larry Whipple, Gabriel Ingram.
Lots of experience here: INTERNET, HANDY-MAN, WOOD-WORKING, BRICK MASON, MECHANIC, PHOTOGRAPY...
It is not our individual efforts nor our physical abilities that will make us rich, it is our collective abilities to Communicate, Smart Work, Organize, think positive and Team work that will make us rich.
We have so many organizations to tear us down, the GBI, FBI, CIA, Task Force this, Task force that, CERT team this and Cert team, but fall well short on organizations to build us up. Teams within our communities!
The abilities to teach and help others, as we want for ourselves. It ain't what you do as much as it is how you get it started.
Use your head.
Saturday, May 3, 2008