James Kjer
Legacy
A GMC graduate, Jimmy continues family legacy hard work and sharing.
Looking back on life, James "Jimmy" Kjer shares two very important building blocks, in his life. First are his parents, Ed and Angie Kjer, and the lessons they taught. Then, there's Georgia Military College.
His dad, a Marine and my mom, a Navy nurse, it was from them he learned honesty and integrity--to tell the truth, to pull his own weight and to accept responsibility for his own actions. GMC reinforced those values and had a significant influence on who Jimmy turned out to be.
A 1973 GMC ROTC graduate, Jimmy was commissioned into the U.S. Army in 1976 as a field artillery officer. There he served until 2000, retiring as a lieutenant colonel.
Today, Jimmy and his wife, Maggie, live in northern Alabama. Currently, Jimmy is a GMC Foundation trustee at-large and, he and Maggie are ardent GMC supporters. For all their hard work and effort, Jimmy has honored his parents by having the GMC computer lab named in their honor. Other than his parents, Jimmy credits GMC for having the greatest influence in his life. As a GMC supporter, Jimmy challenges and encourages fellow alumni to become more involved. "My hope is that my actions show my intentions and will influence others. I am glad to support GMC—it has been and still is a very worthwhile cause."—Jimmy Kjer
GMC, football, baseball, basketball; it gives me great pleasure to recognize and honor a fellow class and team mate. I have known Jimmy since 1969 and he remains a very smart working, hard hitting, ambitious person. It has also been a distinct honor and privilege to have known his parents. Knowing all of that, then you can very well understand why Jimmy continues his family legacy. For that, I commend him. Keep up the great work...Art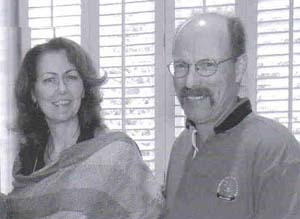 One question, where is Carolyn? Jimmy, enjoy and hope to see you soon.
GMC Instructor and Basketball Coach