Jimmy Dixon
~Perfume and More~
U.S. Post Office (USPS) and Gift Shop, Milledgeville, ga,
"The Perfect gift for him & her!"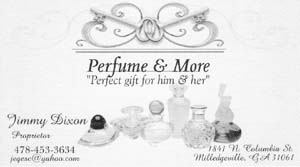 4 Dec. 2010, A new visitor to town was in your shoppe. But I will not tell anyone. It just isn't worth it. Maybe you were having a bad day. I have'em sometimes, but I wouldn't slight any customers. You never know from where comes your help? Here's the story. How do you explain someone happy to come in your shop to purchase perfumes and more. They had set aside $100 to spend in your store but left feeling unwelcome and empty handed due to the experience they had. Do not mean to offend anyone...Art's experience (((your inner voice.com)))
For "the perfect gift" and United States POSTAL SERVICE!
Mailing "official documents", Cards and Letters? Early and late Xmas mailings! Better go to Jimmy Dixon. Last minute "perfect gift" to make anybody feel special - Better get to Jimmy?
For Designer Brand Colonges, Perfumes and Oils - Special Delivery! Don't know what all to get that "special somebody" - All price ranges? Don't want to spend all day looking? Jimmy has got your fragrance!
Gift Shoppe and Post Office - How clever unique and unusal! The latest Gift boxes! The most economical shipping rates, Quick domestic and international shipping on which you can count.
The hottest After-shaves, Lotions, Colonges, beautiful Perfumes, Oils, Fragrances...and much much more. The next time you got a package to mail, "Check Out Jimmy Dixon Post Office and Gift Shoppe" for mailing and great gift ideas.
Jimmy has got "THE GUYS IN BROWN" beat, save as much as 50%, save time, save money, save effort; include tracking and confirming. Nice friendly and professional service, just like it used to be.
Just in case! Checks and balances! Take it to the pros.
New to shipping, don't know the best shipping rates in town, but want to get it right the first time, without spending a small fortune? Don't want to stand in line? What about "Great Customer Service that helps make sure you don't "ship your package to yourself"? A representative who would confirm if in fact those were your wishes. Is that what you intended to do - "just in case"? Two stupids do not make a smart?
"The guys in brown" will allow you to do that, NO QUESTIONS ASKED. I know you wouldn't be so stupid as to make a mistake and mail a package to yourself. Let's say you were intending to mail a $500 instrument to Arizona. The clerk verbally confirms the shipping information and puts the exact opposite labels on your box; addressed from you, to you, via Phoenix, Arizona? Wouldn't that be "suspicous enough to raise a red flag"? Not to interrogate, but to help better understand? Then, you wonder how secure or unsecure our borders are? Why a challenge and password?
How easy is it for terrorists or anyone else to cause harm to this country by SHIPPING? "The Brown Guys" allowed me to ship a $500, 5lb box of electronic equipment, from myself, to myself, via Phoenix, Arizona - No questions asked? What if?
You asked for an ID? Who am I, what am I doing? Was it a gross oversight on both parts? Common sense?
Are you in a big rush! Have you forgotten anything or anybody? Want help making sure packages arrive when and where you want - then SHIP BY JIMMY.
"Be true Use Blue", the United States Postal Service. And if you are in Milledgeville, Jimmy Dixon is located on N. Columbia Street,,,"The guys in Blue", our, United States Postal Service and Gift Shoppe!
Email US Postal Service and Gift Shoppe...
Phone: 478-453-3634
1841 N. Columbia St
Milledgeville, GA 31061
(((your inner voice.com)))