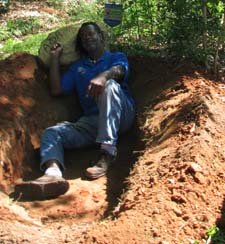 New Year's Resolution
Boast of tomorrow no man knows what a day brings forth. However, we do rest in confidence and calm assurance knowing we will be taken into the future, one day at a time, one way or another.
Another New Year, one more opportunity to pause, say "thanks" and refresh for the long and tedious journey ahead.
My purpose in life drives me.
I resolve to make this year even better than the year before. I challenge myself to be where I am suppose to, when I am suppose to, doing what I am suppose to, better than before because!
I want this year to be the best year ever.
I decided today, right now – I am going to stay the course, continue working to turn my dreams into actions… my actions into meaningful accomplishments.
I know this will not be easy. As soon as I make this commitment, something will happen to distract or knock me off track so, I am prepared.
• Perform my duties, for the good of all mankind.
• Never do anything, which I am afraid to do, as if it were the last hour of my life.
• Ask myself at the end of every day, week, month, and year if I could possibly have done better, what next.
• Until I die, not to act as if I were my own, but entirely and altogether One.
Beloved, I wish above all things you may prosper and be in good health. Bless you, my dear friend.