Sallie Davis House Spotlight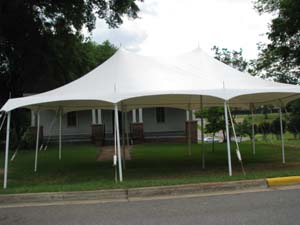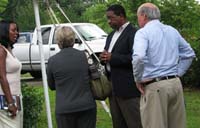 Supporters of the project to restore the Sallie Ellis Davis House unite
Friday, June 5, 2009, a ceremony to spotlight the historic Sallie E. Davis House, Milledgeville, Georgia was held. The house is an important part of the Milledgeville community and its history.
Georgia College and State University, the Sallie Ellis Davis Foundation and the Georgia Trust for Historic Preservation have joined forces to raise money to restore the house. Actually, this a renewed effort to convert the house into an "African-American" museum. This has been the intended purpose since the house has been vacant. As the current President of Georgia College spoke, she said, she did not know this property belonged to the college. I guess this is some indication how long this property has been overlooked. The spotlight is the first attempt in years to fulfill this project. The house/museum has set empty and abandoned from the early eighties until present.
The ceremony recognized members of the Sallie E. Davis foundation, Georgia College and the local community. Neighbors welcome the renovation of this historic property and commend participants on the renewed efforts to complete the project. However, it seems one very important contributor and supporter has gone unnoticed.
Though the Sallie E. Davis house has remained empty and abandoned for all these years, there is one man who made sure the grounds were well maintained for our community. Every time he did his yard, he also did the yard of the Sallie E. Davis house, located next door to him. His name is William Tolbert and we would be remised if we did not recognize his efforts and support for this historic house. When no one wanted to take responsiblity for outside maintenane or did not know who was responsible, it was the hard work and dedication of Mr. Tolbert that maintained the grounds of the historic Sallie E. Davis house. Photo 1993.
So thank you to all other contributors, supporters and to Mr. Tolbert, without whom, one can only imagine how this historic property would look today. For your efforts, this community is more confident than ever the Sallie E. Davis House will soon be transformed into The Milledgeville Cultural Center or whatever for all to enjoy.
Oh yeah, one more thing, you are welcome to remove the words "African-American". A sign of the times, also an important part of the Milledgeville community.
Thank you ,,,,,Art, Supporter of the project
(((your inner voice.com)))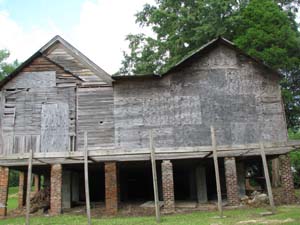 The back of the Davis house 2009.
New Now, look in August of 2011!
Davis house UNDER CONSTRUCTION tour Aug. 2011, Starting Inside
Back to the Sallie Davis Foundation