Shirley"Shu-Shu" Sutton
Poems through Pros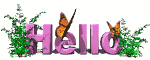 Just The Right Words
For that special person, occasion or self.
Find "just the right words"
Try me!
Before giving up –
No words too simple…No words too big…
Tell me your purpose: who, what, when, where and how.
I can get the job done and I Guarantee Quick Results!!
Just just try it.
Stay Tuned...
Email Me!
Shirley "Shu-Shu" Sutton