Antique and Vintage Travel Trunks
Imagine having to lug around something this huge while traveling. What if you had to carry two of them, which I have? I guess that is how the name "luggage" came about?
During these times long distance travel was primarily by bus, car or train. Would this trunk fit in a car? What about two? You just might have to tie one on.
Compare them and long distance travel of yesterday to today? I imagine there are still a few people with these old vintage trunks. Reckon they would be willing to pay the extra cost to travel with them. My, How Things have changed?
Antique Butterfly Bureau Trunk or Wardrobe trunk, containing hangers and drawers. Large flat top trunks with drawers were known as Bureau or Dresser trunks. Rare versions have been found with round tops and with interiors resembling desks, with fold down front sections.
Wardrobe trunks are basically like a mobile clothes dresser and closet. These typically have several drawers on one side and clothes hangers on the other side, but there are several fancier models. These didn't really come on the scene until about 1900 and then really became very popular from the 1910's to the early 1950's.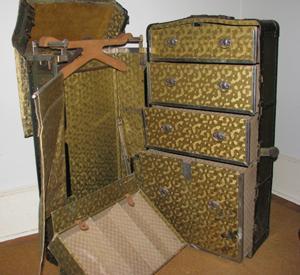 Large flat top trunks: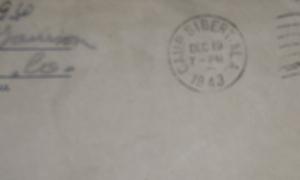 Envelope dated: 1943!
Two sets of gloves, Some kind of trays made in Japan and a Harrington & Richardson (H&R "923") Double Action Revolver.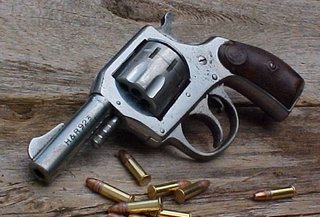 Just in case! I see things weren't all that safe back then either?
Tell somebody!
(((your inner voice.com)))