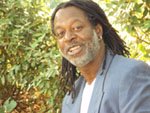 The Brown Recluse Spider
Once "Bitten", twice shy!
01-14-2005
Brown recluse spiders can kill and maim you and are more common that the Black Widow.
Know your poisonous US spiders.
Be careful where you put your hands. Especially during summer & while cleaning dark low traffic areas.
The following illustrates the progression of the brown recluse spider bite
Day 1
The Brown Recluse Spider Bites. Reddened of skin followed by a blister forming at the bite site. Mild to intense pain and itching for 2 to 8 hours.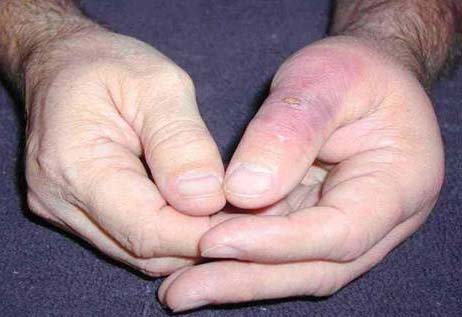 Day 3
The affected skin actually dies on his body.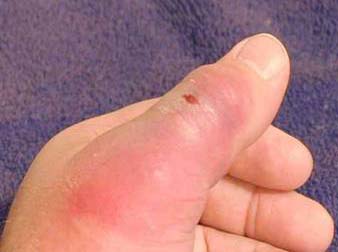 Day 5
The affected skin actually dies on his body.
Day 6The Brown Recluse Spider is the most dangerous spider that we have here in the USA.
Day 9A person can die from it's bite. We all should know what the spider looks like.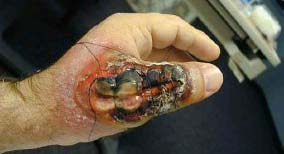 People digging around, doing yard work, spring cleaning & sometimes in their attics stand a good chance of making contact with the Brown Recluse Spider.

The Dangerous Brown Recluse Spider. Be careful!!! Bites, from the Brown Recluse are dangerous and can have permanent & highly negative consequences.
Found most often in the south-central part of the United States, including Georgia, the Brown Recluse, violin, fiddleback, or fiddler (Loxosceles) spiders like dark spaces & woodpiles. Also cool areas in the attic. They are about 0.5 in. long with a dark violin-shaped mark on the combined head and midsection. They have 6 eyes grouped in 3 pairs rather than 8 eyes like other spiders.
They like the darkness and tend to live in storage sheds or attics or other areas that might not be frequented by people or light. Just like The Black Widow!
If you have a need to be in your attic, go up there and turn on a light and leave it on for about 30 minutes before you go in to do your work. Here is another photo.
The Black Widow!
Have A Great Story About This Topic?
Share it!
What Other Visitors Have Said
Click below to see contributions from other visitors to this page...