Oprah in Macon, Georgia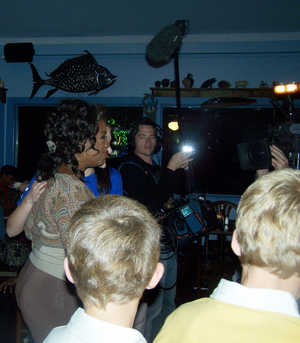 Thursday, November 15, 2007, 5:30pm, Oprah Winfrey lands in Macon, Georgia and dines at the Fish N' Pig restaurant, Lake Tobesofkee.
Oprah is visiting Macon to host her show at the city audotorium, Saturday, 17 November 07.
During my life time, I can't remember an event on this scale. So far, the most noted thing about her visit to our little sleepy town is "Nobody is Talking". Other than the date and time of her show, no one is letting on to public appearances, where she is or going to be and rumors are flying like crazy.
Here's one: The news says Oprah arrived Thursday but rumor control has it the super star arrived Wednesday ;-).
I can't imagine so many people keeping a secret. Either way, we respect her privacy, are very happy and honored for her visit and we all hope to get a glimpse of Oprah Winfrey, America's number one source for inspiration, before she departs.
If you're lucky enough to spot her out and about, let me know. If you snapped a picture, share and I will share with other.
Contact Art at or call 478) 788-8331.