The Beulah Rucker Museum & Education
Gainsville, GA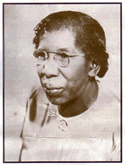 Beulah Rucker Oliver
Beulah Rucker Oliver is one of Gainesville's most fondly remembered citizens. Coming to Gainesville in the early 1900s, she established a school for African-American children that continued in various forms until the late 1950s. The school provided educational opportunities to the region's African-American youth at a time when such opportunities were rare. She established this school primarily through her own hard work and money. Her unselfish actions and her inspiring vision prompted others to act.
As educational opportunities improved for African-Americans, the purpose of the school changed with the times. When the upper grades were consolidated with the City of Gainesville schools, the school continued as an elementary school. A night school was operated at the site for the benefit of African-American World War II veterans. Boy and Girls Scout troops also had their beginnings at the Industrial School site. -- The Beulah Rucker Museum & Education
Also see Sallie E. Davis House Construction?
(((your inner voice.com)))