Sallie E. Davis House
and
The Lamar Construction Company
Milledgeville, GA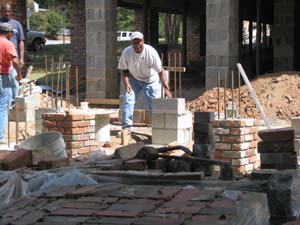 Friday, September 24, 2010
The Cultural Center Dream, watch the Sallie E. Davis house grow into a....Cultural Center! What does cultural center mean? Comment below!
Drawn by its beauty, fabulous workmanship and public events, hundreds of visitors are expected to come to the Sallie E. Davis Cultural "Event" Center every year, making it one of the most visited attractions in the middle Georgia area. This stunning historical landmark building is the former home of one of the most gifted women of America. It dates back to the early 1900's. For near a century locals have managed to preserve this well kept secret pretty much in its original form and better yet, its future is looking even brighter.
Music, dance and theater events, films, lectures, art exhibitions and family events, who knows what will happen here and what new discoveries will be made? It's all about a commitment to excellence and efforts to help students overcome whatever burdens brought to the classroom. What better way to bring together a college and a town? Also see The Beulah Rucker Museum & Education, Gainsville, GA?
Much work has been done and there still is a lot of work to be done, but Mr. Lamar says, There's no job too big or small for his company.
Today, I had the pleasure of meeting Mr. Willie Lamar, Jr, Owner, Lamar Block & Brick Construction Company, Commercial and Home Builders in Milledgeville, GA. A truly dynamic entrepreneur Mr. Larmar says his company has been in operation for more than twenty years and he has grown with it to become one of the largest, most respected Brick and Block operations in the middle Georgia area. He was sparked to start his own business after a former employer, Refused to give him a one dollar raise after "working for him" for some years! Can you believe that? That he is very honored to work and apply his skills towards making the Sallie E. Davis house and dreams a reality. He is very cognizant of and quick to remind you what the successful completion of this historic project means to his town and community.
Neighbors and community members are also very pleased and excited to see GC&SU making so much progress on the Sallie Davis project and dreams of being a cultural center. One people under One roof. Never stop educating yourself.
Mr. Lamar and others have done an outstanding job!
Sallie Davis Foundation members stand outside
Lamar Block & Brick
Owner: Willie Lamar
Address: P.O. Box 481
Milledgeville, GA 31059
Phone: 453 3752
Mobile: 478-456-0314
Fax: 478-454-3271
Email Lamar Block & Brick
(((your inner voice.com)))
What is a "cultural center"? What does a Sallie E. Davis Cultural Center mean to you? Should it be an African-American Sallie Davis Cultural Center? Click here to make Your Comments!