Inauguration Day 2009-01-20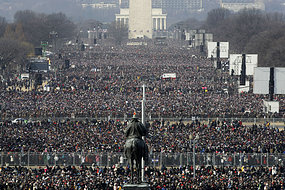 What this Inauguration means to and for the African American Man
There is one group of people who have been ignored and persecuted by everybody, including self. Regardless to the extent of his distress, he has not given up on his country, even to realize the reparations so justly due him. His fidelity in the face of the most adverse conditions. Today, I recognize him. It is in that vain, I write this article --The Black Man, What this Inauguration means to and for the African American Man.
I do not speak for him, I am him. I would like to divide the time for America into 3 categories, yesterday, today and future. Yesterday, the black man was a significant help in building this country and for all of his work, he has been persecuted for issues, in this country and community, that he had no control of and nothing to do with.
Well, today is our day!
As of 1200 noon, 20 January 2009, presiding over America, will be an African American male—a black man. Even more prestigious, he was elected by a country historically and traditionally, characterized or marked by resilience to African American males assimilating into the mainstream culture. Further, this historic event comes during the worst economic times since the Great Depression. Even further, he was unanimously elected by a people with a change in heart and desire to live in a country with a change in heart. What a bone chilling accomplishment for an African American Man!
Here are some of the obstacles to which, the African American Male have had to overcome, in order to reach this monumental peak. I am going to list a few, you may add your own.
Being intellectually and physically challenged---dumb, stupid, uneducated, with a propensity towards violence and irresponsibility. Broke. Too dark, hair and just plain ole inferior to good taste.
Being degraded, on a daily basis, by white America and his own kind especially his women, in front of his family and the world. Everything a black man did was discredited, stolen or twisted and turned by his white counterpart. Hell, it has gotten to the point that a black man had no HOPE in this country, unless he was promoting a White man.
Racism and being suppressed by it. It is not that the black man did not want to do, but he was not allowed to do, as have been proven by Martin Luther King, Malcom X, Stokey Carmichael and those before them. For a Black man to do in America, could easily result in a death sentence. Everyone had turned their back on him, including his own children. This has severely hindered our abilities to work together. All of which happened before a people standing pat, protecting narrow interests and putting off unpleasant decisions.
NO LOTTERING, The right to assimilate versus congregate.

Today, All the African American male has done was to help build this country and try to fit in, which is much more than the average American, as proven by the current state of affairs.
Hope or fear, unity of purpose over conflict and discord! That time has surely passed. IT IS TIME FOR A CHANGE! And the change is now.
Future, the first African American to hold the highest office in our country will be a Male. President Barrack Hussein Obama represents a major change for America and the world, as to how the black man is viewed. Further, he represents how all people should view themselves. Starting today, it is a black man who has been tasked to oversee bringing this country out of the worse economic conditions, since The Great Depression. He says, we must pick ourselves up, dust ourselves off and begin the work of remaking America.
Art's message to the Black Man and all men: That we re-learn how to live and love one another.
I pray for the longevity of our newly elected President, his staff and all people. I pray our women and children are pleased with this accomplishment and willing to be obedient. I pray the plight of NATIVE AMERICANS will be recognized and helped. I pray together, as one nation, we pull together and do what we know we need to do, without having to be told. That we stop looking for a role model and become one. Amen