"Tennessee" John L. Smith
1916 - 2007 "A Believer and one of "The Most Successful Businessmen and Trainers, Macon, Georgia".
Get in, Get out or Get runover!
Flea Market and Estate Sale in the State of "Georgie".
Hi, John L. Smith here, 89 years old and I never thought I would be here...I mean on the internet:-)
Most of my life I worked as a Machinist and Flea Marketing Guru. At times, I refer to myself as "The Junk Man" because over the years that's what I have accumulated. I think, as we get older most of the junk we thought was so important quickly becomes useless junk.
My inspiration has been to survive by serving my fellow man. I done that mainly through buying and selling.
Prices are often over inflated. In my business, I offset them and buying and selling has made a very generous living for me and my family.
Now, I am preparing to sell-out. Don't blink or you might miss out. After 50 plus years of Flea Marketing, I've got about three of everything.
1916 - 2007
My favorite hat reads,
If I knew then
what I know Now, I would have
done then what
I can't do now.
My favorite sign reads:
I HUNT IT
I FIND IT...
I BUY IT...
LOAD IT...
I HAUL IT...
I UNLOAD IT...
I WASH IT...
I SCRUB IT...
I PAINT IT...
I FIX IT...
I PRICE IT...
I DISPLAY IT...
I PAY TAXES...
PAY RENT...
NOW HOW CAN YOU ASK ME TO TAKE ANY LESS FOR IT!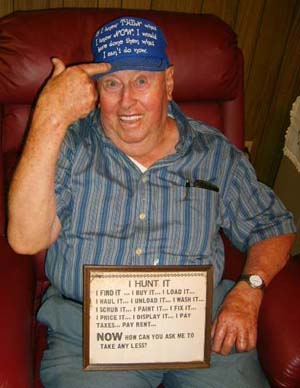 John L. Smith "Tennessee"
1916 - 2007
This is what I do with people having trouble believing that. I started with Donna Rochelle, my daughter.
Meet my friend, for over 50 years, Kenneth E. Dobson. He died, went to heaven and is back here to talk about it.