My Country Garden
Supporting Good, Clean, and Fair Food for a Healthier, more Peaceful and Prosperous People.
Just in from the garden:
When we plant gardens, in addition to food, we plant seeds of Peace and Prosperity for all people.
What season are you in? What season is it? What time is it?
We have clocks, but what good are they when nothing really changes? Our purpose? what we do? What we eat? We've become a 24/7, Fast food and ???working??? operation that lives by the clock. No sense of beginning, ending and rotating. We've all but lost that loving feeling. Nobody has time, but we believe we are operating much more effective and efficient. Nobody wants to take the time any more. Do you really know from where comes this most important resource to your body and life? Just in case of emergency? What about stewardship of the land? Our current fast food process is making us sick and killing us--the "values" system we've been indoctrinated into. A right or privilege?
Money, we think we have all kinds of backup plans, but when it comes to the stuff we eat? A give the people what they want society, to heck with what they need? If we are to improve our quality of life, should not every person be offered training and equipment to provide, this single most important resource? Then, what would be the incentive work for someone else? You know the fishing quote: Give a person a fish or teach a person to fish. Well, or keep taking for granted that someone else will continue providing.
They will provide as long as "we" pay, but what happens when??? What are we teaching future generations? You can not eat a job and you can not eat money? Being able to feed your family? Who really is your family? Money cuts that short, doesn't it? Nothing to share!
It is amazing at what a little garden can do. I am a firm believer in growing my own, learning to do it as best I can and passing it own.
This website says it, "Create dramatic and lasting change in the food system. We reconnect Americans with the people, traditions, plants, animals, fertile soils and waters that produce our food. We inspire a transformation in food policy, production practices and market forces so that they ensure equity, sustainability and pleasure in the food we eat." The Mother of Slow Food.com
---
I revisit your use of the term 'farmer' and now see it in a different perspective.
I see you as being one who examines a soil that needs tending and plants what would prosper from being in that particular soil. The end result is a wondrous marvel which many can enjoy and in some cases produce from, for their own purpose.
You've grown within your self and continue to grow, which is very attractive to me, too many men seem to feel that when they reach a certain age, they are forced to settle for what they have built thus far. They haven't any ambition.
The type of woman I am, I won't settle...I'm forever growing and cannot be with anyone who isn't. Is this you?
---

My Garden - Art
Scents of country fresh!
Signs of the old West!!
Wild, Wild, West!
My garden has birds, spiders, snakes, and worms. Good as old gold.
Goes well with steeping hot cornbread and buttermilk.
As Good as homemade lemonade,
As tasty as finger lickin good, southern fried chicken.
As fine as sweet potato, Pie that is!
Right to the back of my old truck,
Are you ready for the harvest?
All from my garden.
Snake In My Garden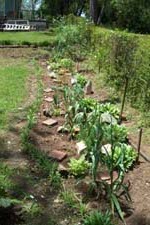 Natural Weed Killer
Earthworms
The Brown Recluse and Bites
Hurricanes?
The hoax slayer says this photo has been doctored.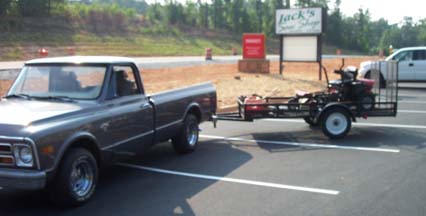 It all started with the purchase of the trailer hitched to the back of my "68" Chevy truck.
The gentlemen I purchased the trailer from is probably one of the most dynamic individuals in the south, especially when speaking on the subject of being a good servant, busy; but always a big garden. A lots to share!
I was most impressed with his joy, enthusiasm and unusually high level of energy and salesmanship, at age 89. He has very successfully worked the Flea Circuit, from New York to Florida and Georgia to California. That's right, selling junk.
And if you ever met this guy, you will understand why. He is just "one of a kind".
I would like to introduce him to you....And Here's John!